HFD Softball Team
Titan T-Center & Weight Loss is a proud sponsor of the Houston Fire Department's softball team.  The HFD softball team, founded in 1983, is comprised of 32 active Houston firefighters.  The players compete in both local and national competitions. They will be competing in the 3rd Annual Capt. Dowling Softball Tournament on September 26, 2015, at the Houston Sportsplex in Cypress, Texas.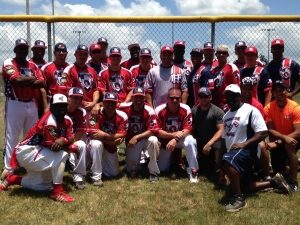 Titan T-Center & Weight Loss is excited about the sponsorship and glad for the opportunity to give back to the community.  We believe that staying active is one of the best ways to remain healthy.  We are happy to support the firefighters in their recreational and health pursuits off the job.
About Titan T-Center & Weight Loss
Founded in 2014, Titan T-Center & Weight Loss serves the League City and Houston communities with testosterone replacement therapy by utilizing the safe an individually tailored treatment plans. A blood test is administered by a member of Titan T-Center & Weight Loss medical staff to diagnose low testosterone levels. Low testosterone levels can negatively affect a patient's life in numerous ways, such as diminished sex drive, decreased energy and increased body fat. Patients with low levels can begin treatment right away.
Patients can walk-in for an appointment during normal clinic hours, schedule appointments online or contact the office at 832-738-1913.