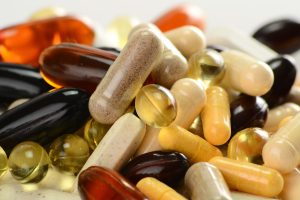 If you've been taking herbal supplements to boost your health, consider yourself warned: your beloved supplements may not contain what you think they do. If you've been taking testosterone supplements to boost your T levels, there's even more of a reason to worry, because it's only a mystery what kinds of hormones you have been putting in your body. This is all according to an investigation into store-brand supplements by the New York State attorney general's office. The investigation focused on four national retailers—GNC, Target, Walgreens, and Wal-Mart—all of which have received cease-and-desist letters demanding that they discontinue the sale of many of their supplements due to inconsistency between the ingredients on the labels and the actual ingredients inside the bottles.
Investigations into Supplements
The attorney general conducted its tests on the supplements using DNA barcoding, a process that recognizes individual ingredients though genetics. Investigators tested 24 products, all claiming to be several different types of natural ingredients. Shockingly, all but 5 of the products contained unrecognizable DNA. Furthermore, 7 of the products contained items that could cause allergic reactions like wheat and beans without listing them on the bottle labels.
The results of this study are hardly surprising, however, if you consider the history of the supplement industry. Supplements are not considered food or drugs, so regulations on them have been relatively loose. And while the FDA does require all companies to make sure their products are safe and accurately labeled, it rarely enforces that rule. This lack of regulation could mean your supplements contain anything, which can have extremely adverse effects on consumers.
In response to the study, Walgreens has promised to remove the negative products from its shelves throughout the country. Walmart and GNC are responding "appropriately," or so their spokespeople claim. Target, on the other hand, has yet to respond.
Visit Your Houston & League City, Texas Experts on Men's Health
We hope this post has made you think twice about supplements and what they actually contain. While the study focused primarily on herbal supplements, it is also likely that testosterone supplements contain false ingredients. If you are looking for a testosterone boost to fix your T Levels, we strongly encourage you to consult professionals first, like us here at Titan T-Center & Weight Loss. Feel free to contact us with any questions or concerns you may have about testosterone therapy or testosterone in general; our knowledgeable staff will be happy to assist you. And if you're looking for testosterone therapy in Houston or League City, call us to schedule your initial evaluation today!